Andy Bell has spent more than 30 years making Erasure not only one of the top groups in the UK, but also one of the longest running synth-pop groups in the world. Andy Bell shows in his work on the "Torsten" albums that he can be rather versatile and is not afraid to go into a darker realm. Having done his first one, TORSTEN THE BAREBACK SAINT at the Edinburgh Fringe Festival, this was made to be more dramatic and goes for a running narrative. The follow-up album continues the story of Torsten, as played by Andy, and talks about his life and many loves.
The first track 'Statement of Intent' really gets the album off to a good start, we get an introduction to Torsten, "…so listen F***ers, I've got nothing left to prove" really is a powerful line for the opening track. This is the start of a musical journey, and it's truly jaw-dropping. 'Beautiful Libertine' gets us into Torsten's mind about him being an addict and some of them thoughts he keeps locked in his head. From the first few tracks, you know this feels very passionate from Mr Bell, and shows that Torsten is truly a well-rounded character which is unfolding throughout these 17 tracks.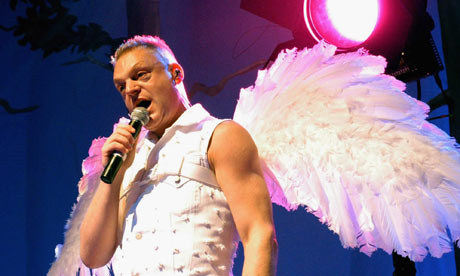 An "Everyman" who finds himself in extraordinary circumstances, this is truly a musical journey unlike any other you will hear. Though some may not be too keen on track names that feature ('Blowjobs For Cocaine' is a good one to note), it is hard to not enjoy the quality presented. The gritty world we are thrown in. The story takes many turns, possibly entering Torsten's drunken memories ('Rupert Drinks Vodka') and revealing thoughts of another ('I Am The Boy Who Smiled At You'). We reach a full circle as the story comes to its conclusion with a reprise of the opening track.
When you can have some real operatic tones punching down your throat and then throw in some dance in the middle of this roughened mix of tracks, it is hard to say what Torsten will bring. The humourous tones and straightforward lyrics will have you hooked, no matter if you are a fan of Erasure or not. Andy Bell clearly loves this character, and I will be looking at listening to the previous Torsten album in the near future. Though I can't compare this to his work with Vince Clark and his impact as one half of Erasure, there is certainly no doubt that TORSTEN THE BEAUTIFUL LIBERTINE is nothing short of wonderful!
Final Rating: 9/10
Written by Jonjo Cosgrove
ALBUM IS AVAILABLE FROM FRIDAY 4TH MARCH
Andy Bell is performing TORSTEN THE BEAUTIFUL LIBERTINE until Sunday 26th March at Above The Stag in London! Tickets are still available.
P.S. Andy, if you are reading this, would love to record an interview with you.